Reviews: The Night Has a Thousand Eyes
Rock & Folk, June 2016, Christian Casoni
Dig It!, April 2016, Patrick Foulhoux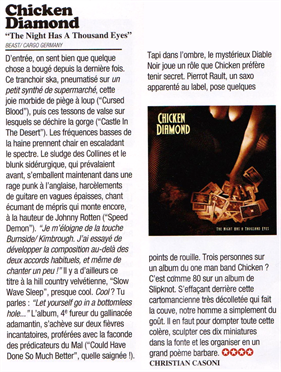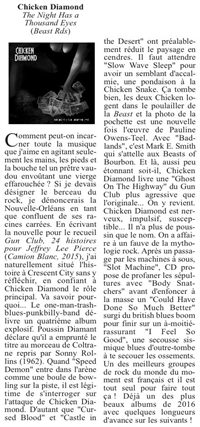 Feuille Info Mai 2016, Alain Feydri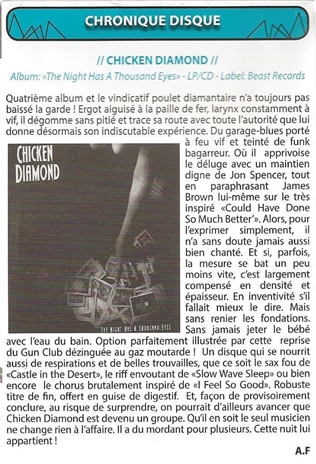 Abus Dangereux, Mai 2016, Paskal Larsen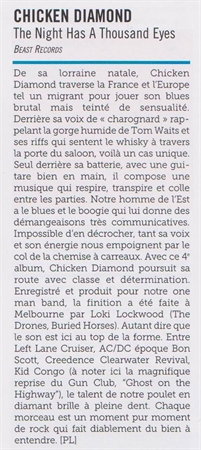 Something Else Reviews, July 2016, Victor S Aaron
http://somethingelsereviews.com/2016/07/04/chicken-diamond-night-thousand-eyes-2016/
That signature blues-punk growl remains his primary sound, and even there the influences from well before the age of punk can be felt: "Could Have Done So Much Better" has that one-chord hypnotic propulsion that traces all the way back to Bo Diddly, and he even references Diddly in the song.
RawPowerMag, April 2016, FrankyStooge
http://www.rawpowermagazine.com/2016/04/qualite-made-in-france-acte-xiii.html
L'ombre des Stooges plane ainsi grandement sur "Speed Demon" mais également "Castle In The Desert" avec son sax très McKay et "Ghost On The Highway" reprise du Gun Club sonne comme un bel hommage (involontaire?) à Motörhead.
Rock à la Casbah, April 2016, Julien Marty
http://www.casbah-records.com/radio-webzine/chroniques/chicken-diamonds
Il trépigne dans son coin, l'œil mauvais. Face à lui, un public de barbus tatoués et assoiffés de bières frelatées attend que la bataille sonore commence.

Glacially Musical, August 2016, Nik Cameron
http://glaciallymusical.blogspot.fr/2016/08/lp-review-night-has-thousand-eyes-by.html#more
In the simplest terms, Chicken Diamond sounds like The Doors (live not studio) being beaten up by Metallica, but not fancy high fallootin' 2016 Metallica, like 1982 Metallica with Ron McGovney.
This album does not feature long epics, pure blues, or surgically precise riffs. The Night With A Thousand Eyes is just a romp in the mud after drinking one too many

Fighting Boredom, May 2016, Adrian Bloxham
http://www.fighting-boredom.co.uk/album-review/chicken-diamond-the-night-has-a-thousand-eyes-album-review/
Chicken Diamond is the French lunatic that has already given us two albums of terrifying primal blues that sound like he is backed by the lost lords of rock'n'roll. This record takes the music away from that and creates something even more compelling. His vocal changes too, it's not just that gargling gravel and petrol growl. He sings and even croons on 'Slow Wave Sleep'. The music has moved forward too, oh the blues are still there, and, trust me, they are just as harsh and demented as before. But there's more.

Reviews: My Name is Charles 'Chicken' Diamond
Rock & Folk, May 2014, Christian Casoni
Les Inrockuptibles, June 2014, Stéphane Deschamps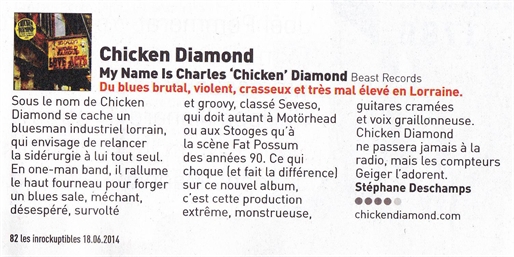 Abus Dangereux, June 2014, Alain Feydri

Dig It!, May 2014, Patrick Foulhoux

Something Else Reviews, April 2014, Victor S Aaron
http://somethingelsereviews.com/2014/04/12/my-name-is-charles-chicken-diamond-2014/
So whether Chicken Diamond really is the Albert Ayler of punk blues or not, the message is the same for both: what goes behind that name is defined by the swagger and daring of that name's music. Diamond's new record — like the one before it — has got about as much of those things as Ayler's music did.
RawPowerMag, May 2014, FrankyStooge
http://www.rawpowermagazine.com/2014/05/chicken-diamond-my-name-is-charles.html
Dès les premières notes d' "Undercover", on sait que l'on va prendre une bonne dose de punk blues dans oreilles en même temps qu'undirect en pleine poire, histoire de bien montrer qui est le patron. Car ce disque c'est indéniablement celui d'un homme qui maîtrise son affaire, distille son groove l'air de rien ("Wild Blood Confusion" aux accents zeppeliniens) avant de balancer le meilleur titre de ce début d'année, ce "(Don't Wanna Be A) Reptile" à faire damner un saint.
Louder Than War, April 2014, Adrian Bloxham
http://louderthanwar.com/chicken-diamond-my-name-is-charles-chicken-diamond-album-review/
It's a pure sound. Not like the old records that people say are the roots of what came next. But pure like, this is all I have to give and you can have it all. Chicken Diamond sings like he's gargling illegal whiskey while chain smoking all the cigarettes he can get his hands on. He plays guitar like he's trying to kill it. The music is as hard as nails. You get the idea that what you are listening to is exactly what Chicken Diamond is hearing in his head, God help us.
Foutraque, April 2014, Paskal Larsen
http://www.foutraque.com/chronique_disque.php?id=4576
Pour réaliser son 3ème album, l'ami Chicken Diamond a dû se préparer vocalement pour avoir cette voix « sale, bête et virulente » ! On prend plein de postillons et ça racle grave sous la gorge ! Rien à dire, dans le style blues garage teinté de boogie, ça le fait à 100%. Notre gratteux n'a pas mis d'eau dans son vin, mais plutôt une bonne bouteille de whisky.
Gonzo Circus, May 2014, Patrick Bruneel
http://www.gonzocircus.com/reviews/?l&r=14348&srch=chicken+diamond
Ook zijn stem komt nog beter tot zijn recht dan ervoor. Speelde hij voorheen de kaart van bluespunk, nu klinkt hij als een DIY-versie van een nachtelijke Tom Waits in diens beste jaren. Hij waagt zich zelfs aan een cover, al is hij behoorlijk onherkenbaar. 'Maggie's Farm' van Bob Dylan krijgt een respectvolle maar rauwe versie waarbij hij de song helemaal naar zijn hand zet.
Reviews: Chicken Diamond II
Rock & Folk, Feb 2013, Christian Casoni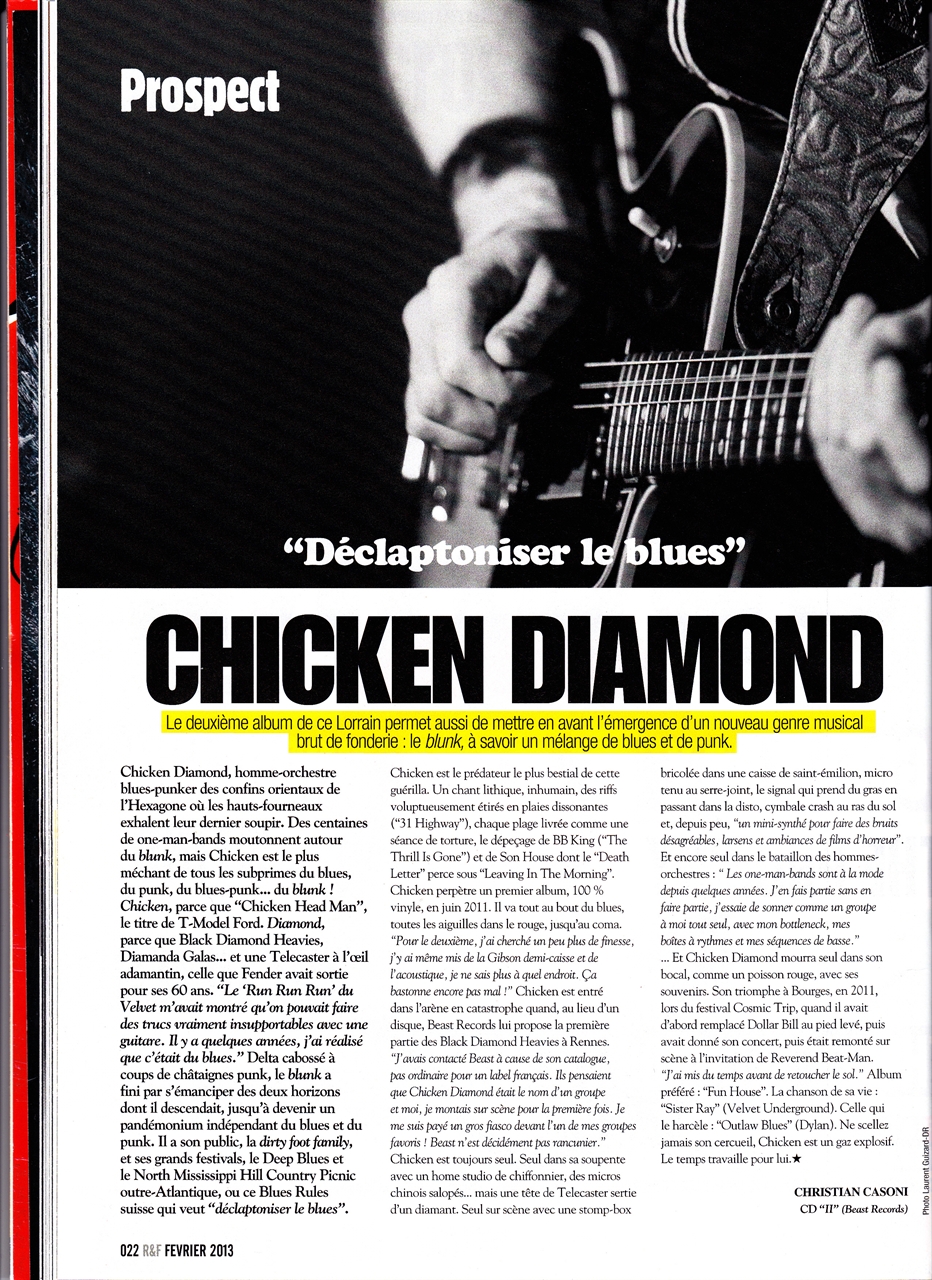 Rock & Folk, Jan 2013, Christian Casoni

Something Else Reviews, Nov 2012, Victor S Aaron
http://somethingelsereviews.com/2012/11/09/chicken-diamond-chicken-diamond-ii-2012/
Chicken Diamond has been compared to everyone from 70s version ZZ Top and Screamin' Jay Hawkins to Tom Waits and the Cramps. I could also toss in The Reverend Horton Heat and Junior Kimbrough filtered through the North Mississippi All Stars. Regardless of who he reminds you of, it's not going to be anyone from where he's from. Chicken Diamond may live in France but his soul roams all over the rougher and richer music territory of the American South.
Louder Than War, Nov 2012, Adrian Bloxham
http://louderthanwar.com/chicken-diamond-ii-album-review/
Blues, punk, rock'n'roll, brash and thunder. Think about it, one man has created this noise. Guitar and voice carries it all…everything else is just icing and it's the voice that drags you in, whiskey soaked and nicotine battered with too many nights screaming along to bands and howling at the moon.
Patrick Foulhoux's Blog, Oct 2012, Patrick Foulhoux
http://patrickfoulhoux.over-blog.com/article-chicken-diamond-ii-beast-records-111315019.html
Le blues et le rock dans le même bourbier, ils ne s'en sortiront pas vivant l'un sans l'autre. Il pioche encore plus profond dans le gras. Il sort le rock de ses gonds, capable de mélanger rock sudiste et pub-rock pour une cuite carabinée. Punk diront certains, blues affirmeront les autres, rock tout simplement pour un des albums de l'année.
RawPowerMag, Nov 2012, FrankyStooge
http://rawpowermagazine.blogspot.fr/2012/11/chicken-diamond-ii-2012.html
Mais ce qui rend la musique de Chicken Diamond si attachante, c'est que ce dernier, outre l'influence parfaitement digérée de l'oeuvre des plus grands bluesmen (on aurait pu citer l'inévitable RL Burnside), incorpore différents emprunts à d'autres courants musicaux. Si cela était manifeste sur son premier album avec les deux reprises inspirées du Velvet Underground et des Cramps, ici ces éléments transparaissent de chaque morceau qu'il interprète.
Real Big Rock Candy Mountain, Nov 2012, Brian K Reese
http://therealbigrockcandymountain.blogspot.fr/2012/11/chicken-grease.html
To that end, "The Thrill is Gone" is the most chilling track, with Chicken Diamond intoning, over and over, permutations of "Thrill is gone/its gone away from me/Girl you done me wrong/you'll be sorry someday". This isn't a lament, it's a promise, and over a hypnotic, distorted, guitar line, with the sparest of thumping rhythm behind it, Diamond proceeds to shred the very nature of evil, and the roles we all play within.
Foutraque, Oct 2012, Paskal Larsen
http://www.foutraque.com/chronique_disque.php?id=4400
Avec les moyens du bord, Chicken Diamond a réussi à étoffer sa musique, on a l'impression d'entendre un groupe de la trempe d'un Black Diamond (tiens tiens…) Heavies en action. On peut aussi rapprocher Chicken Diamond de Bob Log et Son Of Dave avec quelques riffs de guitare à la ZZ Top. Au final si vous êtes amateur de bon blues rock taché de punk rock garage, avec Chicken Diamond vous n'allez pas choisir entre l'aile ou la cuisse, vous allez prendre le tout bien cuit, et prêt à consommer. Cocorico !
Gonzo Circus, Nov 2012, Patrick Bruneel
http://www.gonzocircus.com/reviews/?l&r=11540&srch=chicken%20diamond
Variatie is daarmee meteen verzekerd, omdat Chicken niet op één paard wed, maar al zijn mogelijkheden verkent. 'II' is zeker net zo goed als het beste werk van bekendere onemanbands als Bob Log III of Scott H. Biram.
Planetgong, Dec 2012, Rémi
http://www.planetgong.fr/article-chicken-diamond-chicken-diamond-ii-lourd-et-brulant-113860469.html
Ce disque est une nouvelle très belle réussite, réalisé sans compromis dans un style qui n'est pas le plus facile à appréhender pour les amateurs : félicitons son auteur et les passionnés de Beast Records qui lui ont permis d'exister.